Faculté libre de Théologie Reformée
(Print | Send a update)
33 avenue Jules Ferry
13100 Aix-en-Provence
France (Europe)
Telephone: +33 3 42 26 13 55
Fax: +33 3 42 93 22 63
Email: fltr.aix@wanadoo.fr
Address-No.: 11141 / 6055
Information in the internet:
URL: http://www.fltr.net
Languages of the website: French, English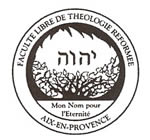 Text from the faculty's leaflet:
"La Faculté de théologie d'Aix-en-Provence est au service de toutes les Eglises. Inaugurée en 1974, la Faculté a pour vocation le rayonnement de la théologie réformée dans le monde francophone. L'enseignement s'inscrit dans la continuité de l'Église ancienne, des Eglises de la Réforme protestante du XVIe siècle et du courant évangélique. Les étudiants qui choisissent de se former à Aix sont issus de diverses dénominations chrétiennes. La Faculté de théologie est située au sein du campus universitaire d'Aix-en-Provence. La ville et la région offrent un environnement spirituel, culturel, sportif et touristique enrichissant pour les étudiants. [...]
La Faculté est un établissement universitaire privé au service de toutes les Eglises. Association régie par la loi de 1905, elle est également libre de l'Etat et ne reçoit à ce jour aucune subvention publique. Le financement est assuré en partie par les scolarités des étudiants et surtout par les dons privés, individuels ou institutionnels (Eglises, fondations, associations). La Faculté est habilitée à recevoir les dons et legs sans aucun frais. Un reçu fiscal est délivré aux donateurs."

The faculty offers different courses: les cours sur place, les cours à distance, les cours à la carte, une année passerelle, la formation permanente.


It publishes a newsletter.


Information of theological training facility
Type of school:

University

Founded in

1974

Languages in use

French, English

Full/part-time staff

8

Admission requirements

baccalaureate or equivalent

Degrees offered

Licentiate of Theology, Master of Theology, Doctor in Theology
training for ministers possible
no information about training for teachers
practical training possible

Library present
Library size: 20000

Confessions

La Rochelle Confession of Faith (1559)
last update: 08.10.2004
» back to the list