Sekolah Tinggi Theologia Jaffray
(Druckversion | Datensatz korrigieren)
Jaffray Theological Seminary
Jl Gunung Merapin no. 103
P.O. Box 1054
Makassar, 90010
Sulawesi Selatan
Indonesia (Asien)
Telefon: +62 411 324 129
Fax: +62 411 311 766
E-Mail: sttjupg@indosat.net.id
AdressNr.: 11219 / 4220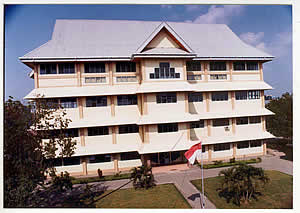 Information provided by the school:
HISTORY
Jaffray Theological Seminary was the realization of the vision of Dr. Robert Alexander Jaffray, who began work of the CMA in Indonesia in 1928. His vision included evangelism, education, and publication. The seminary (established in 1932) was the strategy of his vision. Today, Jaffray Theological Seminary provides studies in Theology, Christian Education, and Church Music for bachelor degree. A masters program was also begun to meet the growing educational needs of today's church.

Over the past 70 years, Jaffray Theological Seminary has trained thousands of men and women who have spread across the island of Indonesia in various ministries. Our graduates of yesterday are today's leaders in many churches and Christian organizations who belong in ecumenical, evangelical and pentacostal/charismatics denomination. They have effectively reached out in establishing churches, pastoring churches, teaching as lectures/professors, and other ministries.

Our task of training is not finished as we enter the 21st century with all its challenges and many of unreached people groups across our island world. This is a challenge that we take seriously here at Jaffray Theological Seminary.


JAFFRAY STUDY PROGRAM:

1. Sarjana Teologi (S.Th) – Equivalent with Bachelor Theology
With concentration in:
Theology (S.Th.):
Purpose: preparing young people to be pastors, evangelists, and church leaders, capable of apllying God's Word to today's world and its needs.

Christian Education (S.Th.):
Preparing young people to be teachers of the Christian faith both in churches and schools.

Church Music (S.Th.):
Preparing young people in Christian music so they are capable in develoving sacred music program.

2. Post Graduates Studies (M.Div. and M.Th.)
Preparing pastors and leaders for tomorrow's church, and to reach out effectively to an ever-changing world.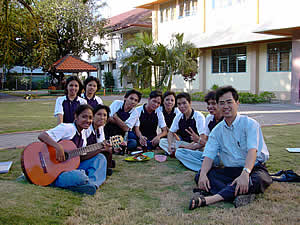 Informationen zur theologischen Ausbildungsstätte
Schultyp:

Seminar

Gründungsjahr

1932

Unterrichtssprache

Indonesian

Anzahl der Lehrstühle

25

Zulassungsvoraussetzung

Abschlussmöglichkeiten

STh (Bachelor degree in Theology, Christian Education, Church Music), Master of Divinity, Master of Theology
Pfarramtsausbildung möglich
Lehramtsausbildung möglich
praktische Ausbildung möglich

Bibliothek vorhanden
Anzahl der Bände: 15400

Bekenntnisgrundlage

Apostles' Creed
letzte Akutalisierung des Datensatzes: 14.12.2004
» zurück zur Liste