Conservative Congregational Christian Conference
(Impresión | corregir datos)
CCCC
7582 Currell Boulevard, Ste. 108
St. Paul, MN 55125,
Minnesota
United States of America (América del Norte)
Teléfono: +1 651 739-1474
Fax: +1 651 739-0750
E-Mail: crchristensen@ccccusa.org
No: 112197 / 3229
informaciones en la red:
URL: http://www.ccccusa.org/
idiomas disponibles en el sitio: English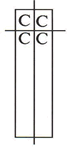 The Conservative Congregational Christian Conference (CCCC) was established in 1948 to provide fellowship for ministers of evangelical, congregational churches. Some of its churches are community or Bible churches, while others have an evangelical and Reformed tradition with congregational government. Its churches trace their roots to the historic Congregationalism of 16th-century England, or to the Christian Church tradition. Their main partners are evangelicals, being part of the National Association of Evangelicals, and through them the World Evangelical Fellowship. They are also part of the World Evangelical Con-gregational Fellowship. The CCCC has no official seminary and encourages the use of evangelical seminaries, but it does have a special relationship with Gordon-Conwell Seminary of South Hamilton, Massachusetts, where CCCC denominational standards are taught.

Further memberships:
World Evangelical Congregational Fellowship
World Evangelical Fellowship
National Association of Evangelical

Publication:
Foresee


datos de la iglesia
miembros

total: 40857

congregaciones

(tradicional): 256

comunidades domésticas

(comunidades en desarrollo): 0

ordenado(s)

total: 531

hombres: 526

mujeres: 5

la ordenación de mujeres para el ministerio es usual
since 1965

ancianos

total: 0

diácono(a)

total: 0
no existen instituciones diaconales

misioneros(as)

total: 0

existe labor misionera en el extranjero

bautizo

bautismo de niños y creyentes
They leave the question of child and/or believers\' baptism to the local church.

padrinos de bautizo

no hay informaciones acerca de padrinos


Santa Cena

por año: 4


publicaciones

edición de revistas propias (vs. texto)

instituciones de formación teológica


número: 0

colegios científico-humanistas

no existen otros colegios

año de fundación

1948

estructura organizacional

16 regional fellowships

tipo de origen

reformando
evangelista
congregacional

idiomas oficiales

confesión

Catecismo de Heidelberg (1563)
Confesión de Westminster (1646/47)
Credo de los Apóstoles
Credo Niceno (381)
última actualización: 20.12.2003
» volver a la lista