Union Theological College
(Print | Send a update)
108 Botanic Ave
Belfast BT7 1JT
Northern Ireland
United Kingdom of Great Britain and Northern Ireland (Europe)
Telephone: +44 28 90 20 50 80
Fax: +44 28 90 20 5099
Email: admin@union.ac.uk
Address-No.: 11489 / 6319
Information in the internet:
URL: http://www.union.ac.uk
Languages of the website: English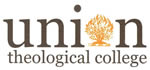 The school is a seminary and a university and offers a general theological education.

Further information which the school asked us to publish:
Union College serves as a seminary for ordination training and for lay training for the Presbyterian Church in Ireland.
The College also lectures as a University College which offers a wide range of open access degree courses through the Queen's University of Belfast.
The College welcomes applications from outside the UK both for degree and for ministerial training courses. Residential accomodation is available.


Information of theological training facility
Type of school:

University

Founded in

1978

Languages in use

English

Full/part-time staff

8

Admission requirements

For University courses, normal UK entrance requirements. For ordination training, a primary degree is normally pre-requisite.

Degrees offered

Diploma of Theology, Bachelor of Theology, Bachelor of Divinity, Bachelor of Arts, Master of Divinity, Master of Theology, Doctor of Philosophy, Master of Ministry, Doctor of Ministry. Also a range of professional qualifications for those in ordination training.
training for ministers possible
training for teachers possible
practical training possible

Library present
Library size: 60000

Confessions

Westminster Confession (1646/47)
Members and partners:
last update: 15.08.2005
» back to the list