Gereja Batak Karo Protestan
(Impresión | corregir datos)
Karo Batak Protestant Church
GBKP
Jalan Kapten Pala Bangun No. 66
Kabanjahe 22115
Sumatra Utara
Indonesia (Asia)
Teléfono: +62 628 20466, 21524
Fax: +62 628 20392
E-Mail: moderamen@gbkp.or.id
synode@gbkp.or.id
No: 1316 / 4214
informaciones en la red:
URL: http:// www.gbkp.or.id
idiomas disponibles en el sitio: Indonesian, English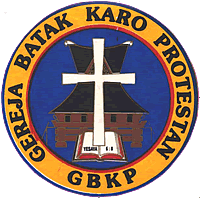 The Karonese were the only Batak tribe not to be served by the RMG. Christianity came to Karoland (North Sumatra) in 1890 with the first missionaries of the Nederlandsch Zendelinggenootschap. As the Karonese considered the mission part of a white conspiracy to rob them of their lands, growth was very slow initially. In 1941, when the church became independent and the first Karonese pastors were ordained, there were 5,000 Karo Christians. During the turbulent 1940s the church maintained itself, but after 1950 mass movements toward Christianity occurred. From 1980 onward evangelization among the Karonese had to be carried out in competition with Islam. In 1979 the church demonstrated its internal growth with the drawing up of a confession of faith (PengakuanDasar),which was expanded in 1984. Also, the church abandoned the negative attitude toward traditional culture it had inherited from the mission, and reformulated its church order (1959, 1971, 1976). The GBKP has a number of schools and clinics, and supports a Christian orphanage, home for the elderly, and credit bank. It had woman elders from the beginning, woman deacons from 1961, and ordained woman ministers from 1987. The church considers April 18, 1890, as its birth date.

Schools and diaconal institutions:
Kindergarten, Elementary School, Junior High School, High School
* The Old Age Service Center "YAPOS"
* The Foundation for Welfare of the Handicapped "Alpha Omega"
* The Orphanage Center "Gelora Kasih"
* Health Service Foundation (under preparation)
Community Development with some units of services: AIDS, Advocacy for women, SocialEconomy empowerment, Credit Union, Community Organisation
The GBKP has a Retreat Center in Sukamakmur and a center for the education of the church members.

Further partner churches and institutions:
Overseas Ministries Fellowship (American)
Evangelical Lutheran Churches of America
Evangelical Lutheran Churches of Tanzania
General Board of Global Ministries (part of the United Methodist Church in America)
Evangelische Zentralstelle für Entwicklungshilfe (Germany)

Publications:
Warta GBKP Maranatha (monthly)


datos de la iglesia
miembros

total: 286804

permitidos en la Santa Cena: 190456

bautizado(s): 286804

congregaciones

(tradicional): 366

comunidades domésticas

(comunidades en desarrollo): 768

ordenado(s)

total: 190

hombres: 149

mujeres: 41

la ordenación de mujeres para el ministerio es usual
since 1953

ancianos

total: 7840

diácono(a)

total: 4944
existen instituciones diaconales

misioneros(as)

total: 1

hombres: 1

no existe labor misionera en el extranjero

instituciones misioneras:

bautizo

bautismo de niños y creyentes


padrinos de bautizo

se usa el concepto de padrino/madrina


Santa Cena

por año: 4


publicaciones

no hay informaciones acerca de la edición de revistas propias

instituciones de formación teológica


número: 0

colegios científico-humanistas

existen otros colegios

año de fundación

1890

estructura organizacional

Presbyterian Synod

tipo de origen

idiomas oficiales

idiomas del culto

confesión

Catecismo de Heidelberg (1563)
Credo de Atanasio (Quicumque Vult)
Credo de los Apóstoles
Credo Niceno (381)

cooperación con

participación en

asociaciones internacionales

asociaciones regionales

asociaciones nacionales
miembros, instituciones representantes y contrapartes:
última actualización: 01.03.2006
» volver a la lista