Christelijke Gereformeerde Kerken in Nederland
(Impresión | corregir datos)
Christian Reformed Churches in the Netherlands
CGKN
Vijftien Morgen 1
P.O. Box 334
NL-3900 AL Veenendaal
Netherlands (Europa)
Teléfono: +31 8 58 23 50
Fax: +31 8 58 23 51
E-Mail: lkb@cgk.nl
No: 143 / 6363
informaciones en la red:
URL: http://www.cgk.nl
idiomas disponibles en el sitio: Dutch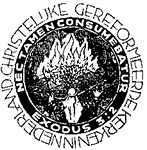 In 1834 Rev. Hendrik de Cock (1801-1842) was suspended from the ministry by the NHK, mainly because of his vociferous criticisms of the new church order of 1816 (cf. no. 1). This measure led to the separation of his congregation in Ulrum from the NHK. Other ministers also protested against theological liberalism and state influence in the church and decided to leave as well. Within two years more than one hundred independent congregations were established throughout the country. They were known as the Christelijke Afgescheiden Gemeenten or the Gereformeerde Kerk onder het Kruis (Reformed Church under the Cross). In 1869 the main stream of these congregations established the Christelijke Gereformeerde Kerk. In 1892 most of them joined the GKN (cf. no. 5). A few congr, however, objected to this union, mainly on the ground that the independence of local congregations was not sufficiently recognized. This remnant of the Reformed Church under the Cross reorganized itself and established its own classes and particular and general synods. In 1947 the church changed its name into Christelijke Reformed Churches in the Netherlands. In 1952 it suffered a division: Rev. J. G. van Minnen and a few others decided to leave the church. Since 1894 the church has had its own theological seminary. In 1917 it moved to Apeldoorn, and it has recently been transformed into a theological faculty. From 1950 to 1977 the church belonged to the ICCC. In 1989 it withdrew from the REC, and in 1995 it joined the ICRC. It has close ties with several churches in North America, Australia, New Zealand, and Southern Africa. Its missionary work in Sulawesi, Indonesia, resulted in the foundation of the Gereja Toraja Mamasa/ GTM (cf. Indonesia).

Note: We did not manage to contact this church. Therefore, we cannot exclude that its address has changed or that the church does not exist any more.
Whoever has information about this church may contact us. We will be happy to update our information.


datos de la iglesia
miembros

total: 75302

congregaciones

(tradicional): 104

comunidades domésticas

(comunidades en desarrollo): 0

ordenado(s)

total: 179

la ordenación de mujeres para el ministerio es inusual

ancianos

total: 0

diácono(a)

total: 0
no se encuentran datos acerca de instituciones diaconales

misioneros(as)

total: 0

existe labor misionera en el extranjero

bautizo

no se encuentran datos acerca del bautismo


padrinos de bautizo

no hay informaciones acerca de padrinos


Santa Cena

por año: 4


publicaciones

no hay informaciones acerca de la edición de revistas propias

instituciones de formación teológica


número: 1

colegios científico-humanistas

no se encuentran datos acerca de otros colegios

año de fundación

1869

estructura organizacional

13 Classes, 4 Synods, 1 General Synod

idiomas oficiales

confesión

Cánones de Dort / Cánones del Sínodo de Dort (1618/19)
Catecismo de Heidelberg (1563)
Credo de Atanasio (Quicumque Vult)
Credo de los Apóstoles
Credo Niceno (381)

cooperación con

participación en

asociaciones internacionales
miembros, instituciones representantes y contrapartes:
última actualización: 20.02.2004
» volver a la lista