United Church of Canada
(Druckversion | Datensatz korrigieren)
Justice, Global, Ecumenical Relations Unit, 3250 Bloor St. West, Suite 300
Toronto ON M8X 2Y4
Canada (Nordamerika)
Telefon: +1 416 231 5931
Fax: +1 416 231 3103
E-Mail: obula@united-church.ca
AdressNr.: 112118 / 3011
Informationen im Internet:
URL: http://www.united-church.ca
Sprachen des Internetauftritts: English, French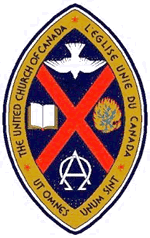 In 1925, four church bodies joined to form the United Church of Canada. The founding members were the Methodist Church, Canada, the Congregational Union of Canada, the General Council of Union Churches, and 70% of the Presbyterian Church in Canada. The Wesleyan Methodists of Bermuda joined in 1930, and the Evangelical United Brethren in 1968. The union was the first in the world to cross historic denominational lines. Impetus for union came from the need to serve Canada's vast northwest and the desire for more effective overseas mission.
The United Church is Canada's largest Protestant church and includes various strata of the population. It is known for its consistent stand on social and environmental issues. It also has to face challenges of a large and diverse body, with debates about sexual ethics and other controversial questions. It maintains its ecumenical ties with the families from which it arose, being a member not only of the WCC but also of the WARC and the WMC.
The United Church has eleven theological training institutions, with some attached to major universities. The United Church Observeris the principal publication; there are three other periodicals covering liturgy and music, education, and mission.

Note: We did not manage to contact this church. Therefore, we cannot exclude that its address has changed or that the church does not exist any more.
Whoever has information about this church may contact us. We will be happy to update our information.


Statistik der Kirche
Mitglieder

total: 4096

Gemeinden

(herkömmlich): 41

Hauskreise

(Gemeinden im Werden): 51

Ordinierte

total: 40

Frauenordination üblich

Älteste

total: 0

Diakone/innen

total: 0
keine Angaben zu diakonischen Einrichtungen vorhanden

Missionare/innen

total: 0

keine Missionare im Ausland tätig

Taufe

Kinder- und Gläubigentaufe


Taufpaten

Keine Informationen über Taufpaten


Abendmahl

pro Jahr: 12


Publikationen

keine Angabe über die Herausgabe eigener Zeitschriften

Theol. Ausbildungsstätten


Anzahl: 0

Allgemeinbld. Schulen

keine Angaben zu sonstigen Schulen vorhanden

Gründungsjahr

0

Organisationstruktur

consistory, Classes, regional Synod, General Synod

Amtssprachen

Bekenntnisgrundlage

Apostolischen Glaubensbekenntnis
Canon of Dort (1618/19)
Heidelberger Katechismus (1563)
Nizänisches Glaubensbekenntnis (381)

Partnerschaften

Mitgliedschaften

Internationale Verbindungen

Nationale Verbindungen
Mitglieder, Träger und Partner:
letzte Akutalisierung des Datensatzes: 17.02.2006
» zurück zur Liste