Eglise Réformée d'Alsace et de Lorraine
(Druckversion | Datensatz korrigieren)
Reformed Church of Alsace and Lorraine
ERAL
1, Quai St.Thomas
BP 80022
67081 Strasbourg Cedex
France (Europa)
Telefon: +33 3 88 25 90 10
Fax: +33 3 88 25 90 99
E-Mail: eral@epal.fr
AdressNr.: 12186 / 6050
Informationen im Internet:
URL: http://www.protestants.org/epal
Sprachen des Internetauftritts: French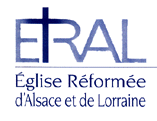 In the 16th and 17th centuries some small areas in Alsace belonged to Reformed princes; they have remained Reformed since then. The Republic of Mulhouse was also Reformed when it became French at the time of the Revolution. Between 1870 and 1918 the Germans set up congr belonging to the Church of the Union in Lorraine. The Reformed Church of Alsace and Lorraine (ERAL) has inherited those different churches. ERAL is in close fellowship with ERF. Its delegates are full members of the ERF National Synod. It is also a close partner of the Augsburg Confession Church in Alsace and Lorraine: the two have the same headquarters (in Strasburg), same departments and offices for the different areas of the life of the church. With the Augsburg Confession Church, the RCath Church, and the Jewish community, it enjoys official status. Most ministers are paid by the government.


Statistik der Kirche
Mitglieder

total: 33000

Gemeinden

(herkömmlich): 52

Hauskreise

(Gemeinden im Werden): 91

Ordinierte

total: 50

Frauenordination üblich

Älteste

total: 0

Diakone/innen

total: 0
keine Angaben zu diakonischen Einrichtungen vorhanden

Missionare/innen

total: 0

keine Angaben zur missionarischen Arbeit im Ausland vorhanden

Taufe

Kinder- und Gläubigentaufe


Taufpaten

Keine Informationen über Taufpaten


Abendmahl

pro Jahr: 15


Publikationen

keine Angabe über die Herausgabe eigener Zeitschriften

Theol. Ausbildungsstätten


Anzahl: 3

Allgemeinbld. Schulen

keine Angaben zu sonstigen Schulen vorhanden

Gründungsjahr

0

Organisationstruktur

5 Consistories, Synod (each Congregation represented by pastor and two lay people)

Amtssprachen

Bekenntnisgrundlage

Apostolischen Glaubensbekenntnis
Heidelberger Katechismus (1563)
Nizänisches Glaubensbekenntnis (381)
Second Helvetic Confession (1562)

Mitgliedschaften

Internationale Verbindungen

Regionale Verbindungen
letzte Akutalisierung des Datensatzes: 01.03.2006
» zurück zur Liste