Eglise Protestante Unie de Belgique
Verenigde Protestantse Kerk in Belgie
(Print | Send a update)
United Protestant Church of Belgium
EPUB/VPKB
5, rue du Champ de Mars
1050 Bruxelles
Belgium (Europe)
Telephone: +32 2 511 4471
Fax: +32 2 511 2890
Email: uniprobel@skynet.be
president@epub.be
Address-No.: 1259 / 6020
Information in the internet:
URL: http://www.protestanet.be
Languages of the website: French, Dutch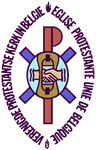 In 1969 the Union of Evangelical Protestant Churches joined with the Belgian Conference of the United Methodist Church to become the Protestant Church of Belgium. Negotiations with the Belgian Christian Missionary Church and the Belgian District of the Gereformeerde Kerken in the Netherlands (GKN) led finally to the official constitution, on September 30, l978, of the United Protestant Church of Belgium (UPCB). Belgian Protestantism, though in the minority, has significantly contributed to the missionary movement (former Zaire, Rwanda). Today, the UPCB is particularly active in promoting the integration of immigrants and refugees.

The church is engaged in the Organe de Concertation entre Chrétiens et Juifs de Belgique

Diaconal institutions:
Social protestant centres and social centres for immigrants

Publication:
Info


Statistic data of church
Members

total: 40000

Parishes

(conventionally): 109

house fellowships

(Number of growing parishes): 9

Ordained clergy

total: 83

Men: 74

Women: 9

women´s ordination

Elders/Presbyters

total: 0

Deacons

total: 0
deacons available

Missionaries

total: 0

missionaries do not working abroad

Baptismal practise

infant and believer´s baptism


Godparents

godparents


Lord's Supper

Frequency per annum: 16
once a month + Christian feasts

Newspapers/ Periodicals

Publication of magazines

Theological training facilities


Number: 1

Schools providing general education

no information about other schools

Founded in

1978

Organizational structures

local church-district-Synod-Assembly

Traditional type

reformed
congregational
methodist

Official languages

Confessions

25 Articles of Religion
Apostles´ Creed
Athanasian Creed
Confessio Augustana (1530)
Heidelberg Catechism (1563)
Leuenberg Concordia (1973)
Nicene Creed (381)

Partner churches

Association

International assiciations

Regional assiciations
Members and partners:
last update: 09.02.2006
» back to the list