Presbyterian Church in Singapore
(Print | Send a update)
PCS
Presbyterian Church House, 132 Sophia Road
Singapore 228186
Singapore (Asia)
Telephone: +65 338 5837
Fax: +65 339 4076
Email: office@presbysing.org.sg
richard@presbysing.org.sg
Address-No.: 13262 / 4370
Information in the internet:
URL: http://www.presbysing.org.sg
Languages of the website: English, Chinese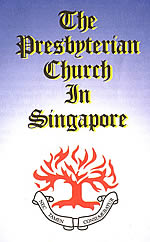 In 1975, ten years after the withdrawal of Singapore from the Malaysian Federation, the Presbyterian churches in Singapore and Malaysia decided to establish their own synods. The Presbyterian Church in Singapore held its first synod meeting in January 1975 and elected an executive committee holding term for two years. Since then there has been significant growth in terms of congregations and preaching stations; welfare work and education programs have been established. In 1992 two language presbyteries (Chinese and English) were formed, a decision which helped to make synod proceedings more focused. The church runs four schools (primary and secondary). Welfare services are provided for the elderly and other needy people. Several congregations have recently expanded their facilities. A theological response commission has been established to grapple with contemporary issues.

Schools:
Kuo Chan Presbyterian Primary/Sec. Schools
Presbyterian High School
Dei Hwa Primary School

Publications:
English Presbytery Newsletter (Presbytery, Express, CP Messenger)
Chinese Presbytery Newsletter
EP Missions Newsletter


Statistic data of church
Members

total: 12000

Parishes

(conventionally): 42

house fellowships

(Number of growing parishes): 2

Ordained clergy

total: 46

Men: 38

Women: 8

women´s ordination
since June 1984

Elders/Presbyters

total: 130

Men: 112

Women: 18

Deacons

total: 205

Men: 137

Women: 68
deacons not available

Missionaries

total: 0

missionaries do not working abroad

Baptismal practise

infant and believer´s baptism


Godparents

no godparents


Lord's Supper

Frequency per annum: 12
Monthly (first week of the month normally)

Newspapers/ Periodicals

Publication of magazines

Theological training facilities


Number: 1

Schools providing general education

other schools

Founded in

1881

Organizational structures

Presbyterian (Congregations, 2 Presbyteries [Chinese and English], Synod)

Traditional type

Official languages

Languages during church services

Confessions

Apostles´ Creed
Westminster Confession (1646/47)

Partner churches

Association

International assiciations
last update: 09.02.2006
» back to the list