Reformed Church in the United States
(Impresión | corregir datos)
5601 Spring Blossom St.
Bakersfield, CA 95608,
California
United States of America (América del Norte)
Teléfono: +1 805 827-9885
E-Mail: rcuswalk@lightspeed.net
No: 12223 / 3212
informaciones en la red:
URL: http://www.rcus.org/
idiomas disponibles en el sitio: English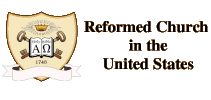 Early German immigrants organized a congregation of Reformed believers in 1725. They were supported by both the Dutch and eventually the Germans, forming a synod of the German Reformed Church in 1793. In 1934 most of the churches merged with the Evangelical Synod to become the Evangelical and Reformed Church. This body eventually became part of the United Church of Christ. The Eureka classis, in North and South Dakota, refused to join the 1934 merger, and continues today as the Reformed Church in the United States. It has now grown to a synod with four classes in the Dakota area. It sees its main challenge as maintaining a biblically Ref worldview in a secular age.

Note: We did not manage to contact this church. Therefore, we cannot exclude that its address has changed or that the church does not exist any more.
Whoever has information about this church may contact us. We will be happy to update our information.


datos de la iglesia
miembros

total: 4250

congregaciones

(tradicional): 38

comunidades domésticas

(comunidades en desarrollo): 3

ordenado(s)

total: 40

la ordenación de mujeres para el ministerio es inusual

ancianos

total: 0

diácono(a)

total: 0
no existen instituciones diaconales

misioneros(as)

total: 0

no existe labor misionera en el extranjero

bautizo

no se encuentran datos acerca del bautismo


padrinos de bautizo

no hay informaciones acerca de padrinos


Santa Cena

por año: 4


publicaciones

no hay informaciones acerca de la edición de revistas propias

instituciones de formación teológica


número: 0

colegios científico-humanistas

no existen otros colegios

año de fundación

1725

estructura organizacional

4 regional classes, 1 synod

idiomas oficiales

confesión

Cánones de Dort / Cánones del Sínodo de Dort (1618/19)
Credo de Atanasio (Quicumque Vult)
Credo de los Apóstoles
Credo Niceno (381)

cooperación con

participación en

asociaciones internacionales
miembros, instituciones representantes y contrapartes:
última actualización: 05.03.2004
» volver a la lista