5. Lingen
The County of Lingen belonged since 1496 to the rule of the Count of Tecklenburg. Konrad of Tecklenburg introduced the Lutheran Reformation in 1541. New preachers were installed and its own church constitution was introduced (in 1543). This phase ended five years later, however, because Konrad lost the rule over Lingen.
The decisive date for the introduction of the Reformed Reformation in the County of Lingen is the year 1578. For it was then that the County of Lingen came under the control of the Reformed House of Orange. The Prince Maurice of Nassau-Orange reformed the congregations from 1597 by causing the gospel to be preached. And although there was apparently no pressure exerted, most of the inhabitants turned to the Reformed confession. In 1605 however, Lingen was conquered by Spinola, commander in Spanish services, and the county was re-Catholicised. And with success – for the still young movement of the Reformed confession had not yet been able to root itself deeply enough. In 1524 the Reformed preacher Melchior Balthasar was executed in Meppen. In 1633 the rule changed again – Orange took over Lingen once more. From 1634 there was a Reformed service in Lingen once more. Reformed preachers were also appointed in several other congregations. At this point, however, a split existed: the overwhelming majority of the population was and remained Roman Catholic, a minority Reformed. A brief interlude in 1673/74, in which the Bishop of Munster, who had conquered the County of Lingen, reigned, caused a change in trend in favour of the Roman Catholic Church. But already in 1674, the members of the House of Orange took over the rule in the County of Lingen once again. Because of the numerous changes in the past few years, the majority of the population were unwilling to make yet another change of confession. The Reformed preachers were not accepted in a friendly manner, and forbidden Roman Catholic services took place, sometimes in emergency churches outside the country.
In 1678 its own church constitution was drawn up on the Dutch model, later becoming the model for the church constitution of the County of Bentheim. It emphasises the Reformed principles of the Heidelberg Catechism, entrusts the church councils with the leadership of the congregation and states expressly that none of the congregations are to have power over any other.
In 1693 the high school in Lingen was set up, at which theology, law, medicine and philosophy could be studied. It was closed in 1820. Individual buildings of the high school are still to be found in Lingen today.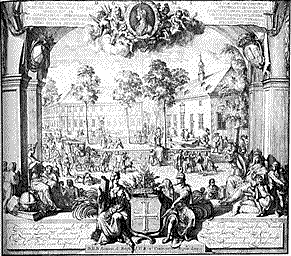 Hohe Schule Lingen 1694
From 1702 the County of Lingen belonged to Prussia, whereby little changed for the congregations, their language and church hymns remaining Dutch (into the 19th Century). The rule changed again in 1815, the Lower County of Lingen being ascribed to the Kingdom of Hanover, while the Upper County remained with Prussia.
The Reformed congregations in today's Emsland belong to the "Protestant Reformed Church. Synod of Protestant Reformed churches in Bavaria and North West Germany."