9. Hessen-Cassel
The Landgrave of Hesse, Philip the Magnanimous (1504-1567) was amongst the protagonists of the Reformation in Germany. His urge towards rapprochement brought about the Colloquy of Marburg in 1529 between Luther and Zwingli. He also endeavoured to achieve reconciliation between the present Protestant camps in the church in the County of Hesse-Cassel. One could describe the Church of Hesse neither as Lutheran nor as Reformed.
After his death, the rule was divided among his sons. At this point, it appears that Philip's position was only pursued further in Hesse-Cassel by William IV, whereas the other brothers, under the guidance of Louis IV of Marburg, brought about a Lutheran confessionalisation. After the death of William IV, his son Maurice became his successor in 1592. He had close contact to the Nassau counts, and by the so-called "Mauritianic Amendments" caused his land to join the Reformed confession in 1605. These reforms basically concerned the church service. In respect of the doctrine of the two natures of Christ, any speculation or dogmatism should be avoided. The ban of images should not be left out (as happens in the Roman Catholic and Lutheran traditions). For the Lord's Supper, no wafers should be used, but normal pieces of bread should distributed. Against these points of improvement there was clear opposition from Lutheran theologians. By 1607 three professors of theology in Marburg and 54 pastors had been dismissed (they were taken on, however, by the Lutheran landgraves in Hesse-Darmstadt). Unlike in the Nassau regions, however, Maurice of Hesse did not take over the presbyterial-synodal element – he himself governed the church from above. This also meant that in some parts of Electoral Hesse the Reformed element only became established with difficulty.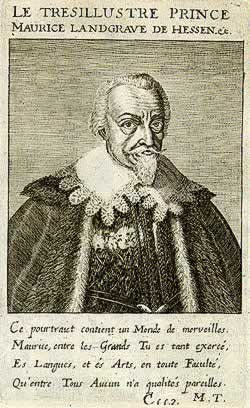 Moritz von Hessen
After the ruling line of Hesse-Marburg had died out, there was an argument between Hesse-Cassel (Reformed) and Hesse-Darmstadt (Lutheran) about the possession of Upper Hesse. The Marburg University, founded by Philip and made Lutheran by Louis IV, was converted by Maurice into the Regional Reformed University during this time. The founding of the (Lutheran) University of Giessen by Hesse-Darmstadt was the consequence. From 1648 there were two coexisting Protestant churches in Hesse as a whole, a Reformed and a Lutheran.
The Reformed congregations belong today to the "Protestant Church of Electoral Hesse and Waldeck." Some of the congregations have remained Reformed while others have merged with Lutheran congregations to form united congregations.