Guatemala - (North America)
(Print)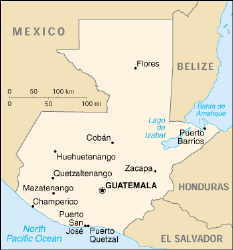 Information about Guatemala
| | |
| --- | --- |
| Capital | Guatemala City |
| Area | 108890 square kilometres |
| Population | 10519000 |
| Religions | Roman Catholic 70%, Protestant 25%, indigenous Mayan beliefs 5% |
| Christian (%) | 95.00 |
| Protestant (%) | 25.00 |
| Reformed (%) | |
The "Reino de Guatemala" included all of Central America and Chiapas during the colonial period. In 1524 the process of evangelization began, especially by Franciscan and Dominican priests. In 1534 Pope Paul III founded the bishopric of Guatemala, which was raised to the status of an archbishopric in 1742. Since the center of the Spanish government for Central America was based in Guatemala, few Prot were found there during the colonial period. However, some cases of persons accused of being "Luth" were processed by the office of the Inquisition in Guatemala.
During the first part of the 19th century, a strong conservative pro-Catholic dictatorship dictatorship prevented a Protestant presence. However, from 1843 to 1846 the Bible colporteur Frederick Crowe, a lay Baptist from England, established a school and distributed Bibles until he was forcibly evicted by a military convoy. With the establishment of the liberal government in 1873, the door opened to the mission societies. The first, by invitation of the country's president, Justo Rufino Barrios, in 1882, was Rev. John Clark Hill from the Presbyterian Church in the USA. He was followed by the Central American Mission of C. I. Scofield in 1896. Other groups which arrived at an early date were: the Friends in 1902, the Nazarenes in 1904, the Advent in 1908, and the Primitive Methodists in 1914.
The overwhelming majority of Guatemalan Prot are Pent. Pentecostal pioneers Charles Furman and Thomas Pullin had both experienced the baptism of the Holy Spirit at the Christian and Missionary Alliance Bible School in Nyack, N.Y., in 1907. Furman worked with the Primitive Methodists from 1922 to 1929 but encountered strong resistance to his Pent emphasis. The Full Gospel Church of God, related to the Church of God (Cleveland, Tennessee), marks its founding date as 1932, the year when Furman's Guatemalan co-workers experienced the baptism of the Holy Spirit. Another major Pent denomination, the Assemblies of God, currently the largest denomination in the country, arrived in 1935 from their base in El Salvador.
Today, Guatemala's Prot community includes more than two million people, is divided into some 300 different denominations, and is made up of about 14,000 local churches.
Churches