Puerto Rico - (North America)
(Print)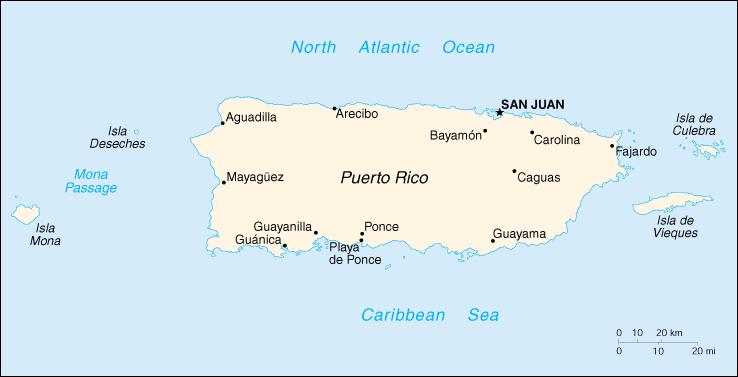 Information about Puerto Rico
| | |
| --- | --- |
| Capital | San Juan |
| Area | 8959 square kilometres |
| Population | 3827000 |
| Religions | Roman Catholic 85%, Protestant and other 15% |
| Christian (%) | 99.00 |
| Protestant (%) | 28.00 |
| Reformed (%) | |
With the arrival of Columbus in 1493 the RCath religion was established in Puerto Rico; the first diocese was approved in 1511. The indigenous population rapidly disappeared because of the conquest, slavery, and disease, and was replaced by black slaves; though the present population is 75% white, 15% is black and 10%, mulatto. In 1952, the Commonwealth of Puerto Rico became a self-governing political unit associated voluntarily with the Unites States. Religious vocations among Puerto Ricans have traditionally been few, with the result that a significant majority of the RCath clergy is foreign, especially from the USA and Spain.
Although there had been occasional worship services during brief occupations by the British as early as 1598, and by the Dutch in 1625, no significant Prot mission work occurred until religious tolerance was allowed after the Spanish Revolution in 1868. The first continuous Prot presence was that of the Episcopal Church, established in 1872. The Church of Jesus, founded by Manuel Ferrando in 1902, which had grown to over 2,000 members, united with the Episcopal Church in 1922.
The North American Prot churches established a comity agreement for work in the former Spanish territories in 1898, and in the following year five denominations began to send missionaries: the Bapt, Disciples of Christ, Luth, Presb, and Evangelical United Brethren. But the two largest groups on the island are the Meth, who arrived in 1900, and the Advent in 1909. Both have carried out significant educational projects, while the Advent have also emphasized medical work. The Evangelical United Brethren, the Christian Church, and the Congreg Church formed the United Evangelical Church of Puerto Rico in 1931 (cf. no. 1). As in most of Latin America, however, with the establishment of the Pent Church of God in 1916 the Pent groups have become more numerous than the older churches.
In 1954 nine denominations organized the Evangelical Council of Puerto Rico in which the Presbyterian Church and the IEUPR participate. The Evangelical Seminary (Seminario Evangélico de Puerto Rico), which serves twelve of the Caribbean countries, is constituted by ten of the island's denominations. Since the Spanish American War of 1898, the separation of church and state follows the pattern of the USA closely.
Churches