Chad - (Africa)
(Print)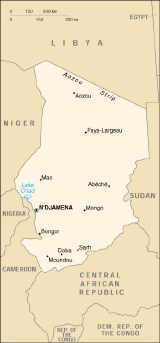 Information about Chad
| | |
| --- | --- |
| Capital | NDjamena |
| Area | 1284000 square kilometres |
| Population | 7153000 |
| Religions | Muslim 50%, Christian 30%, indigenous beliefs (mostly animism) 20% |
| Christian (%) | 30.00 |
| Protestant (%) | |
| Reformed (%) | |
Chad,formerly part of French Equatorial Africa, became independent in 1960. The country is economically weak. More than 80% of the work force is involved in subsistence farming and fishing. Cotton accounts for at least half of the exports. The country is highly dependent on foreign aid, especially food credits, given chronic shortages in several regions. In the late 1980s the country was ravaged by civil war. Half of the population is Muslim and consists mainly of nomads living in the northern semi-desert area of the country. The south has rich vegetation and is inhabited by animists and Christians.
RCath missions started in the late 1920s. Today about half of the Christian population in the country is Catholic, organized in five dioceses: the first Chadian bishop was consecrated in 1987. Prot missions entered the country in the early 1920s. Several mission agencies were at work establishing different communities. In 1923 the Baptist Mid Mission started work in southern Chad among the Sara. In 1924 the Brethren Mission penetrated into Chad, coming from Cameroon, where it had established roots. SUM played a significant role in providing some coordination among various efforts. Substantial church growth took place in the 1940s. Churches planted by SUM agencies generally are self-supporting.In 1925 the Canadian branch of SUM started work in the southwestern province of Logone. In 1927 Dr. Olley, with the support of the Christian Mission to Many Lands, set up missionary work in southern Chad. In 1946 a dissident missionary of the Baptist Mid Mission established a new mission field in Central Chad which later became the Evangelical Mission of Guera (Mission évangélique du Guéra). In 1958 the Mission franco-romande du Tchad was set up as a SUM branch. It started work in the Ouaddaï region, the eastern part of Chad which is predominantly Muslim. Since then it became the Mission protestante franco-suisse du Tchad. In 1962 it received substantial personnel support from a British mission agency, the Worldwide Evangelization Crusade (WEC). The SUM branches of North America, Switzerland, and France, as well as the Mennonite Mission (EMEK) and WEC, decided to create the SUM Mission, which the Chadian government recognized in January 1963. In 1968 some missionaries left the SUM North American Branch to join TEAM (USA); in 1969 they became the United Evangelical Mission (MEU).
Occasional joint ventures are conducted by the Entente des Eglises et Missions évangéliques (EEMET), a loose association of evangelical missions and churches, which was established in 1964 and officially recognized by the civil authorities in 1988.
Churches